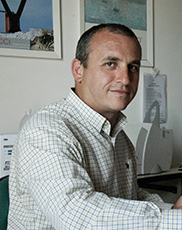 Mattia Patti is an assistant professor in Modern and Contemporary Art History at the University of Pisa. Coordinator of the project FUTURAHMA. From Futurism to classicism (1910-1922). Research, Art History and Materials Analysis (MIUR, 2013-2016), Patti obtained his Ph.D. at the Scuola Normale Superiore di Pisa, with a dissertation on Osvaldo Licini. Since 2008 he has collaborated with the Opificio delle Pietre Dure and the CNR-National Institute of Optics in Florence, where he deals with diagnostics applied to the cultural heritage and the conservation of modern and contemporary art. He has been involved in campaigns, and published contributions on Beato Angelico, Carlo Crivelli, Vincenzo Foppa, Osvaldo Licini and Piero Manzoni. Between 2010 and 2014 he has taken part in the MOLAB, Mobile Laboratory for the European project CHARISMA. Patti is also the head of the Banca Dati delle Riviste della Gioventù Italiana del Littorio, founded in 2003 as part of the Laboratorio di Arti Visive of the Scuola Normale Superiore di Pisa.
Selected Publications:
More than Meets the Eye: New Research on the Estorick Collection, edited by R. Cremoncini and M. Patti, exhibition catalogue, London, Estorick Collection, September 23-December 20, 2015, Estorick Collection, London, 2015.
Introduzione; I cataloghi di vendita Lefranc: prime considerazioni e spunti di ricerca; Per uno studio integrato dei dipinti di Vittore Grubicy. Premessa metodologica; La fase progettuale dei dipinti di Grubicy; Oltre il Divisionismo. Tecniche e materiali nell'atelier Benvenuti-Grubicy, edited by M. Patti, Pacini, Pisa, 2014, pp. 9-15, 83-98, 173-180; 203-230.
A. Nevin, S. Bellei, R. Fontana, F. Gabrieli, F. Rosi, C. Marchese, M. d'Ayala Valva, D. Kunzelman, E. Buzzegoli, and M. Patti. 2014. Futurist Painters – Interdisciplinary research on written sources, artists' materials and paintings. In ICOM-CC 17th Triennial Conference Preprints, Melbourne, 15–19 September 2014, ed. J. Bridgland, art. 1309, 8 pp. Paris: International Council of Museums (ISBN 978-92-9012-410-8).
F. Rosi, M. Patti et al., Designs and colors. Gerardo Dottori through non invasive investigations. In Gerardo Dottori: The Futurist View, exhibition catalogue, London, Estorick Collection, 9 July – 7 September 2014, Fabbri, Perugia, 2014.
M. Patti, C. Anselmi, B. Doherty, C. Daffara, R. Fontana, Modern Painted Palimpsests. Deciphering the Artworks of Osvaldo Licini, in Science and Art: the Painting Surface, a cura di B. Brunetti, C. Miliani, A. Sgamellotti, Royal Society of Chemistry, Londra, 2014.
S. Conti, E. Bracaloni, M. Patti, R. Giorgi, How can we conserve both the Artist's Idea and the Material? The special case of a 'Achrome' of Piero Manzoni, in Conserving Modernity. The Articulation of Innovation, a cura di S.C. Stevens, atti del convegno, NATCC, San Francisco, California (USA), 12-15 novembre 2013, p. 129-144.
Il futuro del contemporaneo. I cantieri del Master in Conservazione e Restauro delle opere d'arte contemporanee dell'Opificio delle Pietre Dure, a cura di L. Montalbano, M. Patti, Edifir, Firenze 2013.
Museo Civico G. Fattori. Il Novecento. Opere su carta, a cura di M. Patti, Pacini, Ospedaletto (PI) 2013.
Il "Ritratto dello scultore Fausto Melotti" del Museo Marino Marini di Firenze, in Melotti guarda Melotti, a cura di A. Salvadori, M. Gnani, Silvana, Cinisello Balsamo (MI) 2013, pp. 20-27.
Le voci del Dizionario Biografico degli Italiani (Istituto Enciclopedia Treccani, Roma 2011-2013): Ennio Morlotti, Gabriele Mucchi, Anton Zoran Music, Mario Negri, Mario Nigro, Costantino Nivola, Plinio Nomellini, Ubaldo Oppi, Cipriano Efisio Oppo.
Latte di calce e polvere di carbone. Primi chiarimenti tecnico-diagnostici sui disegni murali di Michelangelo nella Sagrestia Nuova, in P. Dal Poggetto, Michelangelo. La "stanza segreta", Giunti, Firenze 2012, pp. 151-157.
Verso la modernità. Licini, Morandi e la mostra dell'Hotel Baglioni, in Licini Morandi. Divergenze parallele, cat. della mostra, a cura di M. Pasquali, D. Simoni, Fermo – Montevidon Corrado, 25 giugno – 25 settembre 2011, pp. 73-87.
Per un'arte europea in Italia. Esperienze a Torino tra i Sei pittori e la Prima mostra di arte astratta (1929-1935), in Torino. Venti secoli di cultura e trasformazione urbana, Treccani, Roma 2011, pp. 127-134.
Pino e gli animali preistorici, in «Quaderni di Scultura Contemporanea», n. 10, Roma, 2011, pp. 11-19. Un lungo cammino. La fortuna critica del Polittico della Misericordia di Piero della Francesca, in Ripensando Piero della Francesca. Il Polittico della Misericordia di San Sepolcro, Firenze, Edifir 2010, pp. 57-70.
Giuseppe Marchiori e Osvaldo Licini. Storia di un catalogo generale delle opere, «Annali della Classe di Lettere e Filosofia», V, 1, Pisa, 2009, pp. 255-297. Verso nuovi orizzonti. La scultura internazionale alle biennali di Venezia 1948-1952, «Quaderni di Scultura Contemporanea», n. 8, Roma, 2008, pp. 23-43.
I. Amadei, V. Carpita, M. Patti, Patrimonio artistico e identità cittadina. Storia del Museo Civico «Giovanni Fattori» di Livorno, Livorno, Debatte 2008.
M. Patti, Tracce disperse e segni nuovi. Osvaldo Licini attraverso la riflettografia infrarossa, Pisa, Edizioni della Normale 2006.
Catalogo delle opere, in Licini. Opere 1913-1929, cat. della mostra, a cura di Fabrizio D'Amico, Marco Goldin, Museo di Santa Giulia, Brescia, 28 ottobre 2006 – 19 gennaio 2007. Conegliano, Linea d'ombra libri 2006, pp. 26-98, 103-119.
Dal realismo alla pop art. Il premio «Amedeo Modigliani – città di Livorno», cat. della mostra, a cura di Irene Amadei, Veronica Carpita, Mattia Patti, Granai di Villa Mimbelli, Livorno, 23 gennaio – 13 marzo 2005. Pisa, Pacini Editore 2005.
M. Patti, V. Carpita, I. Amadei, Arte e cultura a Livorno 1945-1967, Livorno, Debatte 2004.
Conferenze, incontri e dibattiti organizzati dal Museo Progressivo d'Arte Contemporanea città di Livorno, in Il grande rettile e gli altri, cat. della mostra, Museo Civico «Giovanni Fattori», Livorno, 30 luglio – 19 settembre 1999, pp. 139-140.