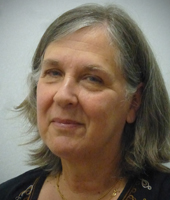 Diane Kunzelman is a professional easel painting conservator, presently in private practice after retirement as staff restorer, since 1977, at the Opificio delle Pietre Dure Laboratory in Florence, where she continues to collaborate on specific projects.  She received her Masters of Fine Arts in Art History from Syracuse University in 1970, followed by an internship as a Fulbright Fellow in the Florentine conservation facilities. She has treated numerous paintings on panel and canvas, by artists such as Bronzino, Fra' Bartolomeo, Pontormo and Botticelli. Among her special interests are research on innovative methods of scientific investigation of artworks, in particular Infrared Reflectography, and the study of art materials, especially pigments and colors, with non-invasive techniques. Kunzelman is the author of numerous conference presentations, lectures and publications. Her work has appeared in technical and scientific journals, such as Studies in Conservation and the Journal of the American Society for Conservation, as well as in the catalogues of many major exhibits held in Florence and elsewhere. She is Professor of Painting Techniques and the History of Conservation at the Syracuse University and Sarah Lawrence College Florence Programs.
Main publications:
Comparative technical investigation of paintings by Botticelli, in Sandro Botticelli (1445-1510). Artist and Entrepreneur in Renaissance Florence, edited by G. J. Van der Sman, I. Mariani, Firenze, Centro DI, 2015, pp. 27-46.
More than Meets the Eye: New Research on the Estorick Collection, edited by R. Cremoncini and M. Patti, with the support of C. Adams, E. Buzzegoli, D. Kunzelman, C. Marchese, exhibition catalogue, London, Estorick Collection, September 23-December 20, 2015, Estorick Collection, London, 2015.
E. Buzzegoli, D. Kunzelman, Metodi d'indagine sui materiali e sulle fonti: I nuanciers Lefranc; E. Buzzegoli, D. Kunzelman, Le immagini Multispettrali; E. Buzzegoli, D. Kunzelman, C. Marchese, La foderatura come prassi nel metodo di lavoro di Grubicy; E. Buzzegoli, D. Kunzelman, La vernice, in Oltre il Divisionismo. Tecniche e materiali nell'atelier Benvenuti-Grubicy, edited by M. Patti, Pacini, Pisa, 2015, pp. 115-133; 137-139; 195-201; 237-241.
A. Nevin, S. Bellei, R. Fontana, F. Gabrieli, F. Rosi, C. Marchese, M. d'Ayala Valva, D. Kunzelman, E. Buzzegoli, and M. Patti,Futurist Painters – Interdisciplinary research on written sources, artists' materials and paintings, in ICOM-CC 17th Triennial Conference Preprints (Melbourne, 15–19 September 2014) edited by J. Bridgland, art. 1309, Paris, International Council of Museums (ISBN 978-92-9012-410-8).
E. Buzzegoli, D. Kunzelman, P. Moioli, C. Seccaroni, Indagini sui dipinti per la Camera Borgherini, in OPD Restauro25 (2014), pp. 155-166.
D. Kunzelman, Il Nano Morgante del Bronzino in Riflettografia IR: il disegno preparatorio e le ragioni della quadrettatura, in Riflettografia e Grandi Maestri-6: Il Bronzino, Nardini Editore, in corso si pubblicazione.
D. Kunzelman, Approfondimenti su pigmenti e colori, in Il Caprotti di Caprotti, a cura di M. Zecchini, Marsilio Ed., Venezia 2013, pp. 234-243.
D. Kunzelman, Le indagini, la scelta operativa e la sua realizzazione, in Il Nano Morgante di Agnolo Bronzino; un dipinto a due dritti restaurato, a cura di M. Ciatti and D. Kunzelman, Edifir, Firenze 2012, pp. 29-50.
L. Caforio, M. Fedi, A. Migliori, D. Kunzelman, Misure PIXE su un'opera di Pier Paolo Pasolini, Poster, Convegno AIAr La Scienza per l'Arte Contemporanea (Ferrara Marzo 1-4, 2011).
D. Kunzelman, Pictorial restoration: techniques of integration of paint losses and their evolution to the present day, in Colour Coded, a cura di C. Parraman, Society of Dyers and Colourists, Bradford England 2010, pp. 189-213.
D. Kunzelman, L. Gusmeroli, A. Keller, Immaginare il restauro: l'integrità pittorica del dipinto realizzata grazie al ritocco virtuale in Le fasi finali del restauro delle opere policrome mobili, Atti del Convegno (Trento 2010), a cura di Cesmar7, Il Prato editore, Saonaro (Pd) 2010, pp. 137-144.
D. Kunzelman, Sui Pigmenti Bianchi, in OPD Restauro 20 (2008), pp. 100-120.
D. Kunzelman et alii, Open Studio e intervento di restauro su un'opera di Sironi, in L'Attenzione alle superficie pittoriche. Materiali e metodi per il consolidamento e metodi per valutarne l'efficacia–2. Atti del Quarto Congresso Internazionale COLORE E CONSERVAZIONE (Milano 21/22 Nov. 2008) a cura di D. Kunzelman and Cesmar7, Il Prato ed., Saonara (Pd) 2009, pp. 173-198.
M. Bacci, M. Picollo, G. Trumpy, M. Tsukada, D. Kunzelman, Non-Invasive Identification of White Pigments on 20th Century Oil Paintings by using Fiber Optic Reflectance Spectroscopy, in Journal of the American Institute for Conservation 46 (Spring 2007), pp. 27–37.
M. Bacci, D. Kunzelman, D. Magrini, M. Piccolo, B. Radicati, G. Trumpy, M. Tsukada, Modern White Pigments: Their Identification by means of Noninvasive Ultraviolet, Visible, and Infrared Fiber Optic Reflectance Specstroscopy, in Modern Paints Uncovered, Proceedings of the Modern Paints Uncovered Symposium (Tate Modern, London May 19-26, 2006), London, Archetype, 2006, pp. 118-128.
D. Kunzelman, Pontormo's Adoration of the Magi. Technical Analyses and New Insights, in Italian Art, Society, and Politics, a Festschrift for Rab Hatfield,  a cura di B. Deimling, J.K. Nelsen, G.M. Radke, Syracuse University Press, Syracuse N.Y. 2007, pp. 128-143.
E. Buzzegoli, D. Kunzelman, Re-use of cartoons in Paintings by Andrea del Sarto and Pontormo: a Study with High Resolution Digital Scanned IR,  in La peinture ancienne et ses procédées: copies, répliques, pastiches, Actes du Colloque XV pour l'etude du dessin sous-jacent et de la technologie dans la peinture (Bruges, 11-13 settembre 2003) a cura di H. Veoughstraete and J. Couverts, Peeters Pub., Leuven 2006, pp. 67-78.
A. Aldovrandi, E. Buzzegoli, A. Keller, D. Kunzelman, Il falso d'autore indagato con tecniche non invasive. Rapporto preliminare sulle indagini svolte in Santa Maria della Scala di Siena durante la mostra 'Falsi d'autore' in OPD Restauro17 (2005), pp. 265-272.
A. Aldrovandi, E. Buzzegoli, A. Keller, D. Kunzelman, Investigation of painted surfaces with a Reflected UV False Color Technique, in the Proceedings of Arte '05 8th International Conference, Non-Destructive Investigation and Microanalysis for the Diagnostics and Conservation of the Cultural and Environmental Heritage (Lecce 15-19 Maggio 2005), Rome 2005.
Aldrovandi, E. Buzzegoli, A. Keller, D. Kunzelman, Indagini su superfici dipinte mediante immagini UV riflesse in falso colorein OPD Restauro 16 (2004), pp. 83-87.
E. Buzzegoli, M. Ciatti, D. Kunzelman,Tecniche alternative per la conservazione dei dipinti su tela: l'esperienza del seminario di Vishwa Raj Mehra in OPD Restauro 15 (2003), pp. 123-135.
D. Kunzelman, F. Ciani Passeri, C. Rossi Scarsanella, San Luca di Cosmè Tura: dal restauro virtuale al restauro reale, in OPD Restauro 14 (2002), pp. 165-170.
E. Buzzegoli, R. Cardaropoli, D. Kunzelman, P. Moioli, L. Montalbano, P. Piccolo, C. Seccaroni, Valerio Mariani da Pesaro, il trattato 'della miniatura': primi raffronti con le analisi e le opere in OPD Restauro 12 (2000), pp. 248-256.
D. Kunzelman et alii, The use of Dark Pigments in Fra' Bartolomeo's Paintings, in Art et chimie, la couleur, Actes du congrès (Paris, 16-18 septembre 1998) a cura di J Goupye e Jean-Pierre Mohen, CNRS éd., Paris 2000, pp. 203-208.
D. Kunzelman, E. Buzzegoli, D. Bertani, M. Cetica, P. Poggi, L'indagine riflettografica e a falsi colori IR,in Heures de Turin-Milan. Inv. n° 47. Museo Civico d'Arte Antica, Torino. Commentary, a cura di A.H. van Buren, J.H. Marrow, S. Pettenati, Faksimile Verlag, Lucerne 1996, pp. 209-216.
E. Buzzegoli, C. Castelli, C. Giovannini, D. Kunzelman, M. Parri, P. Petrone, S. Ramat, A. Santacesaria, O. Sartiani, La tecnica di Fra' Bartolomeo: studi e ricerche, in L'Età di Savonarola Fra Bartolomeo e la scuola di san Marco (Firenze, Palazzo Pitti and Museo di San Marco, 25 aprile – 28 luglio 1996), exhib. catalog, a cura di S. Padovani, M. Scudieri, G. Damiani, Marsilio Ed., Venezia 1996,  pp. 293-313.
D. Kunzelman, M. Bietti, Dal restauro, nuove conoscenze per l'ancona con la 'Maestà di Montici in OPD Restauro 7 (1995), pp. 76-95.
A. Aldovrandi, R. Bellucci, D. Bertani, E. Buzzegoli, M. Cetica, D. Kunzelman, L'infrarosso falso colore: nuove tecniche di utilizzo, in OPD Restauro5 (1993), pp. 94-98.
D. Bertani, M. Cetica, P. Poggi, E. Buzzegoli, D. Kunzelman, S. Cecchi, A Scanning Device for Infrared Reflectography, in Studies in Conservation vol. 35, no. 3 (1990), pp. 113-116.
D. Kunzelman, E. Buzzegoli, D. Bertani, M. Cetica, P. Poggi, G. Puccioni, Indagine riflettografica, in 'Le tre età dell'uomo' della Galleria Palatina, Centro Di, Firenze 1989, pp. 29-32.
D. Kunzelman, E. Buzzegoli, I dipinti di Giovanni Fattori della Galleria Arte Moderna di Palazzo Pitti in riflettografia infrarossa, in Giovanni Fattori Dipinti 1854-1906, exhib. cat. (Firenze, Palazzo Pitti, 26 settembre–31 dicembre 1987), ed. by G. Matteucci, Artificio, Firenze 1987, pp. 263-289.
D. Kunzelman e E. Buzzegoli, Andrea del Sarto in riflettografia, in Andrea del Sarto: 1486-1530. Dipinti e Disegni a Firenze, exhib. cat. (Firenze, Palazzo Pitti, 8 novembre 1986-1 marzo 1987) a cura di M. Chiarini, d'angeli-haesusler editore, Milano 1986, pp. 341-357.
E. Buzzegoli, D. Kunzelman, La Nascita di Venere in riflettografia IR, in La Nascita di Venere e l'Annunciazione del Botticelli restaurate. Firenze, Gli Uffizi Studi e Ricerche 4, Centro D, Firenze 1984, pp. 63-73.