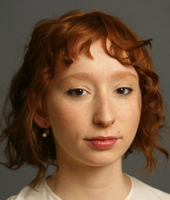 She is a CNR research fellow at the Institute of Photonics and Nanotechnologies of Milan (CNR-IFN) as part of the  FUTURAHMA projectand a Ph.D Student at Politecnico University of Milan.
She received her master's degree on Physics (2011) from Bologna University, defending a dissertation entitled "Micro-photoluminescence analyses on nitride-based nanowires". She has had several study abroad experiences: (AY 2009/2010) Erasmus student at Paris 7 Univeristy, (May-June 2010) internship at Ecole Polytechnique ParisTech, (March-September 2011) dissertation internship at the Institut of Fundamental Electronics of Paris Sud University, (November- May 2012) Marie Curie Early Stage Researcher in the framework of the Marie Curie Initial Training Network "PROPHET-Postgraduated Research on Photonics as an Enabling Technology", at the Tyndall National Institute of Cork, Ireland. Her research focuses on the analysis of paintings and painting materials using non-destructive techniques, like Fluorescence Lifetime Imaging and Time-Resolved Luminescence Spectroscopy.
Publications:
S. Bellei, A. Nevin, A. Cesaratto, V. Capogrosso, H. Vezin, C. Tokarski, G. Valentini, and D. Comelli, Multianalytical Study of Historical Luminescent Lithopone for the Detection of Impurities and Trace Metal Ions, «Analytical Chemistry» (2015) Vol. 87 Issue 12, pp. 6049-6056.
V. Capogrosso, F. Gabrieli, S. Bellei, L. Cartechini, A. Cesaratto, N. Trcera, F. Rosi, G. Valentini, D. Comelli, and A. Nevin, An integrated approach based on micro-mapping analytical techniques for the detection of impurities in historical Zn-based white pigments, «Journal of Analytical Atomic Spectrometry» (2015) Vol. 30, pp. 828-838.
A. Nevin, S. Bellei, Fluorescence Lifetime Imaging (FLIM), in Oltre il Divisionismo. Tecniche e materiali nell'atelier Benvenuti-Grubicy, edited by M. Patti, Pacini, Pisa, 2015, pp. 147-154.
A. Nevin, A. Cesaratto, S. Bellei, C. D'Andrea, L. Toniolo, G. Valentini, and D. Comelli, Time-resolved photoluminescence spectroscopy and imaging: new approaches to the analysis of cultural heritage and its degradation, «Sensors» (2014) Vol. 14, pp. 6338-6355.
A. Nevin, S. Bellei, R. Fontana, F. Gabrieli, F. Rosi, C. Marchese, M. d'Ayala Valva, D. Kunzelman, E. Buzzegoli, and M. Patti, Futurist Painters – Interdisciplinary research on written sources, artists' materials and paintings, in ICOM-CC 17th Triennial Conference Preprints (Melbourne, 15–19 September 2014) a cura di J. Bridgland, art. 1309, Paris, International Council of Museums (ISBN 978-92-9012-410-8).